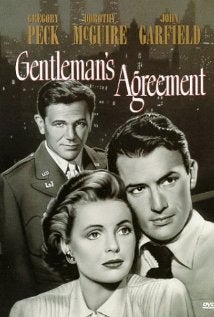 Just the other day, I was cleaning out some drawers at work, and I stumbled upon a reproduction of an old letter dated 1925.  The letter writer considered the "disagreeable subject" of what to do about the increasing numbers of Jews admitted into the medical school.  It was apparently difficult to decide whether to split into separate schools or just stop allowing so many Jews because, though they were apparently talented and of sound character, there were just too damned many of them.
I thought about this letter while watching Gentleman's Agreement, along with a lot of other things that have been going on in the world today.  I don't know why this letter has been saved in the assorted documents of my office – except that it may hold historical relevance for my Jewish boss, who is a leader in an institution that once would have shunned him.  He once told me that he was one of two Jewish boys permitted at his school, not long after this movie was released.  We've come some distance since then – but it's not hard to see how tenuous the hold is in the era of Trump.
Gregory Peck stars as an immersion journalist (before we even had such a thing) whose latest article is a piece about anti-Semitism.  Just, y'know, the whole general topic, distilled to a bit in a magazine.  He decides that the best way to approach it is by presenting himself as Jewish and seeing what happens throughout his daily life.  Eventually, he sees how it affects his supposedly liberal friends, and even his son (played by the adorable Dean Stockwell as a child).
Though this film can come off as a bit preachy at times – it's clearly a Movie with a Message – it's also a surprisingly modern-feeling look at white privilege.  Peck's fiancée in the film, a fairly sheltered upper-middle class New Yorker with a home up in Connecticut, portrays the kind of liberalism that's criticized today:  she believes in the cause of Jewish equality in theory, but only when it doesn't inconvenience her.
I honestly didn't expect to like this movie much, based only on what little I knew of it.  I figured, okay, it'll be one of those old-timey moralistic stories – something like the Twilight Zone.  Where, even if you agree with the philosophy behind it, the cheesiness of the message just doesn't ring true.  But this felt more like a journey in recognizing privilege.  It'd be interesting to see something like this story played out today, in the context of the Black Lives Matter movement or the experiences of Muslims in America.  I don't know if it would be any good, but it might offer another lens for us whites to look at ourselves and think about what we see.
Theme:  Anti-Semitism
First Time Watching?  Yes
Final Verdict:  Do you get your ideas and then write, or do you write first and then get your ideas?